About Us
We are legal professionals with law firm headquartered in the city of Reggio Calabria, Italy. Our office is comprised of a team of professionals trained in Italian law in Italian Universities, specialized in the recognition of Italian citizenship, through the services of consulting and advisory, from the search of document to the completion of the process in Italy.
In Brazil we have several collaborations with offices in the cities of Ribeirão Preto, São Paulo, Rio de Janeiro, Rio de Janeiro, Sao Paulo, Belo Horizonte-MG, Londrina and Camboriú-SC.
Structure of Office
Click on photo below to view the CV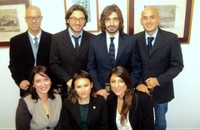 So our presence is both in Italy and Brazil to give all necessary assistance.
Our team consists of 14 professionals including lawyers and staff care taking care of the clients with an high quality service and working always with ethics, respect, integrity and professionalism in the business.
OUR OFFICE
Via Rausei n. 27, Reggio Calabria, Italia
Map - Office Reggio Calabria - Italia